Locations
Regina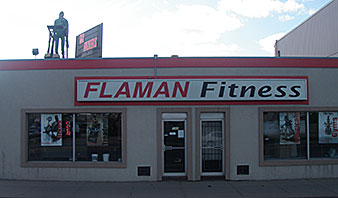 Store Hours
Sun: Closed
Mon: 9 am to 5:30 pm
Tue: 9 am to 5:30 pm
Wed: 9 am to 5:30 pm
Thu: 9 am to 5:30 pm
Fri: 9 am to 5:30 pm
Sat: 9 am to 5pm
The Flaman Fitness Regina store had been open since 2002. We provide fitness equipment for Cardio, Strength equipment, weights and accessories, Health care items, and Playgrounds. We feature industry leading brands including Bowflex, Nautilus, Spirit, TuffStuff, LifeSpan, Schwinn, and Progression. We have a wide selection of home gyms, kettlebells, and free weights as well as the best selection in Canada for treadmills, treadclimbers, ellipticals and exercise bikes.

We are proud to be actively involved in the community including:
YWCA women of Distinction
Regina Cosmo Club
Lonsdale Boxing Club
Regina Boxing Club
CIBC Run for the Cure
We invite you to come on in and try out our top selling piece of fitness equipment for the past 6 months, the Bowflex Treadclimbers.
Our staff are very knowledgeable and ready to help you choose the right fitness equipment. This includes Scott Thomson, National Strongman for 14 years Brad Provick, Doug Maier, Kyle Cooper, and Megan Gurski. We advise you to "Stick to your routine. Rome wasn't built in a day."
Leave a Review / View All Reviews